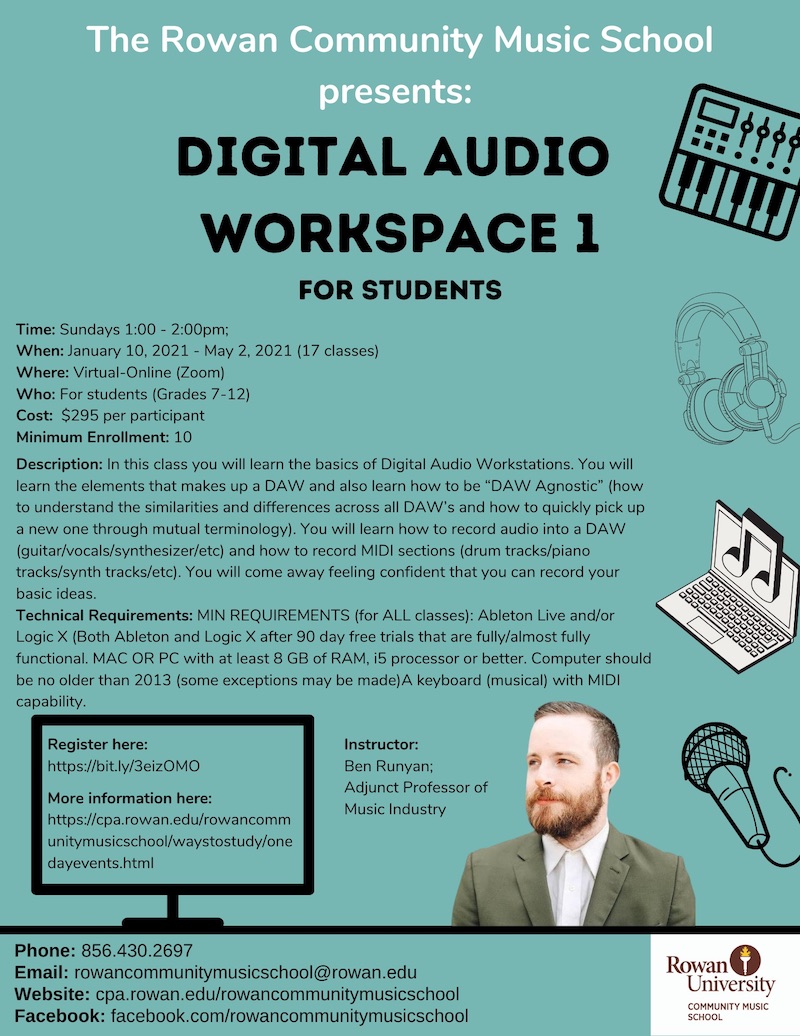 In this class you will learn the basics of Digital Audio Workstations. You will learn the elements that makes up a DAW and also learn how to be "DAW Agnostic" (how to understand the similarities and differences across all DAW's and how to quickly pick up a new one through mutual terminology). You will learn how to record audio into a DAW (guitar/vocals/synthesizer/etc) and how to record MIDI sections (drum tracks/piano tracks/synth tracks/etc). You will come away feeling confident that you can record your basic ideas.
Open to: students grades 7-12
Dates: Sundays: January 10, 2021 - May 2, 2021
Time: 1:00pm - 2:00pm
Location: This is a virtual/Zoom
Workshop Fee:
$295 pay in full due by January 24, 2021.
(Payment Plan - 2 payments: 1st payment $147.50 Due January 24, 2021; 2nd payment $147.50 Due March 21, 2021)
Technical Requirements:
MIN REQUIREMENTS (for ALL classes): Ableton Live and/or Logic X (Both Ableton and Logic X after 90 day free trials that are fully/almost fully functional.
MAC OR PC with at least 8 GB of RAM, i5 processor or better. Computer should be no older than 2013 (some exceptions may be made)
A keyboard (musical) with MIDI capability.
Payment Options
Option 1: Payment Plan
The payment plan allows you to split the cost of this item between 2 easy payments, according to the schedule below.
| Payments | Amount | Due Date |
| --- | --- | --- |
| Payment #1: Initial Deposit | $147.50 | Due at checkout |
| Payment #2: Final Payment | $147.50 | March 21, 2021 |
Option 2: Pay in Full
By choosing to pay in full, you agree to purchase this item at full price during checkout.
You Pay: $295.00