Registration for this event has been closed.
Need help?
Please
contact us
.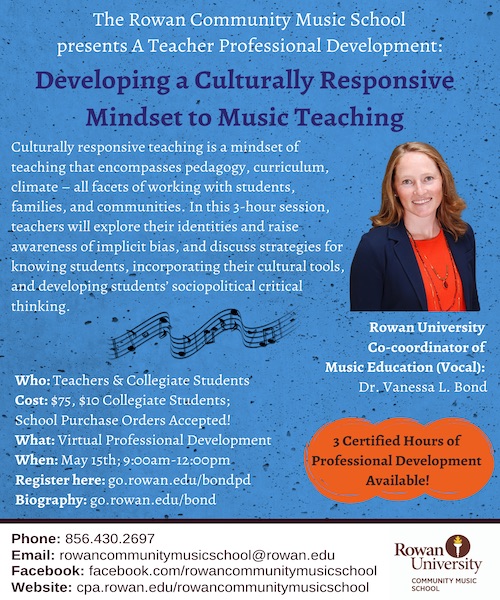 Culturally responsive teaching is a mindset of teaching that encompasses pedagogy, curriculum, climate -- all facets of working with students, families, and communities. As a framework that sees and validates the whole student, and acknowledges the potential conflict between students' cultural lenses and the structures of our educational system, cultivating a responsive mindset can help us meet students' needs in these challenging times and in our future. In this 3-hour work, teachers will explore their identities and raise awareness of implicit bias, and discuss strategies for knowing students, incorporating their cultural tools, and developing students' sociopolitical critical thinking.
Workshop Fee: $45.00; Collegiate Students: $10.00 
Notes: Legal Disclaimer: Please be advised that we reserve the right to change the format of offerings without notice based on the Federal, State and Local guidelines related to the COVID-19 global health pandemic.​
When: May 15, 2021
Time: Saturday, 9:00am-12:00pm
Instructor: Dr. Vanessa Bond
Location: This is a virtual/Zoom
Refund Policy: No refunds allowed. If you have questions, please contact rowancommunitymusicschool@rowan.edu.
Notes:
Bill Me Later Option only for Teachers only. If submitting a school purchase order, use the "Bill Me Later" feature to produce an Invoice. Upon registration, you will receive an invoice from Rowan University and an invoice will be sent to your school secretary or listed contact. All "Bill Me Later" invoices must be paid in full by March 31 to complete First Steps class registration.

Note: International participants must pay via credit card, the Bill Me Later option is not available.

Note: Failure to address the purchase order to the attention and address located on the invoice you will receive via email, will result in cancelled participation to CMS program. Registrants should confirm with school secretary/personnel before the purchase order is sent to ensure correct attention and address