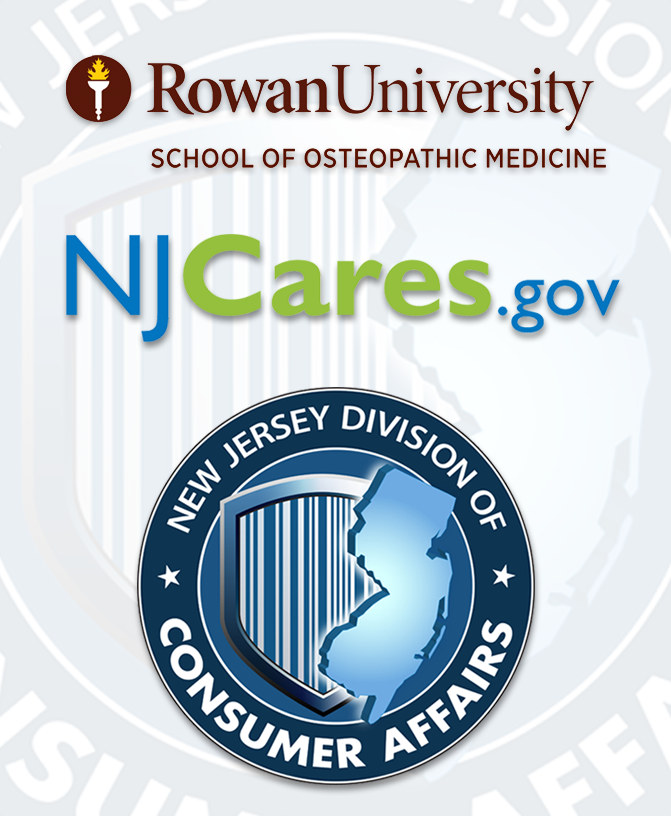 The Role of Pharmacists in Addressing New Jersey's Opioid Crisis
ENDURING COURSE: REGISTRATION OPEN!
Time of Enduring Course: One hour
This is the second of six modules of a live webinar and enduring course series that will use a standardized, evidence-based opioid addiction prevention curriculum to train and inform pharmacists on best practices in opioid dispensing, counseling patients and caregivers, opioid storage and disposal, and halting abuse and diversion.
TARGET AUDIENCE: New Jersey Licensed Pharmacists
OBJECTIVES: At the conclusion of this activity, participants will be able to:
Recognize the function of the New Jersey Prescription Monitoring Program in halting abuse and diversion, and pharmacist obligations including registration and recognizing suspicious activity.
Outline pharmacist obligations in properly dispensing Controlled Dangerous Substances including valid prescription requirements, emergency dispensing, and labeling obligations.
Understand best practices for maintaining security controls against diversion, including physical security controls of Controlled Dangerous Substances and interfacing with patients.
Explain drug utilization review and requirements, and the pharmacist's role alongside the practitioner's role in counseling patients and their caregivers on new prescriptions.
Applying for standing orders, dispensing opioid antidotes, and complying with the Overdose Prevention Act.
Recommend proper storage and disposal of all prescriptions.
Discuss future guidance for pharmacists in opioid dispensing and management.
Participants will have the opportunity to ask questions.
Available Credit: This enduring course satisfies the statutory mandate that licensed pharmacists obtain one credit in continuing education programs concerning prescription opioid drugs as a condition of licensure renewal. Upon successful completion of the enduring course, participants will receive a certificate of completion, and should retain it in accordance with the New Jersey Board of Pharmacy's regulations.
Participants must complete the Pre-Assessment, Post-Assessment, and Knowledge Assessment to receive a certificate of completion.
You must be present for the entire enduring course to receive full credit.
Hearing Impaired Registrants: This enduring course will contain closed captioning.
For questions pertaining to continuing education, and module content, please contact Patricia Fortunato, Content Developer/Program Manager at fortun83@rowan.edu
For technical support with registration and access to the module, please contact the Rowan Online Marketplace Support Center at (856) 256-5164, or submit an email ticket here.