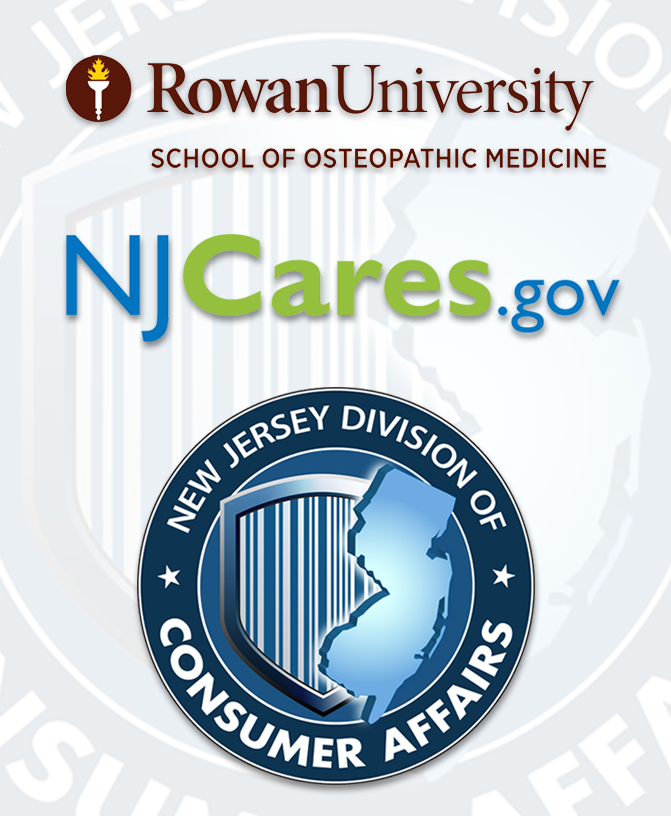 OPIOID ADDICTION PREVENTION TRAINING FOR NEW JERSEY NURSES AND ATHLETIC TRAINERS
ENDURING RECORDED COURSE: Registration now open
Time of Enduring Recorded Course: One hour
This is the fourth of six modules of a live webinar and enduring recorded course series that will use a standardized, evidence-based opioid addiction prevention curriculum to train and inform New Jersey nurses and athletic trainers on best practices in caring for patients who take opioid prescriptions.
All participants who register for and complete this course will receive access to the New Jersey Opioid Medical Education Program Naloxone Distribution and Training Programs Guide. This comprehensive county-by-county guide, available in interactive and print formats for health care professional reference and patient education, includes pharmacies who dispense NARCAN® (naloxone hydrochloride) Nasal Spray and the recent FDA-approved generic naloxone hydrochloride nasal spray (utilizing standing orders, and via prescription). It also includes virtual trainings in the era of COVID–19 on how and when to use naloxone nasal spray.
TARGET AUDIENCE: Licensed Practical Nurses, Registered Nurses, Athletic Trainers
OBJECTIVES: At the conclusion of this activity, participants will be able to:
Understand the origins and current status of the opioid epidemic.
Recognize limitations on acute and chronic pain support including discussing alternatives to opioid use with patients when appropriate, and reinforcing how to take opioids appropriately if prescribed.
Identify early intervention and assessment of patients at risk of developing opioid use disorder (OUD).
Understand the effectiveness of medication-assisted treatment (MAT) in treating OUD and special populations.
Practice and recommend patient communication strategies.
Instruct parents on proper management, storage, and disposal of opioids, especially around children, and how to safely manage children's opioid use, if prescribed.
Be equipped to respond to overdoses and teach patients and their loved ones how naloxone saves lives.
Discuss how to prevent stigma associated with substance use issues and treatment, and considerations when treating mothers and newborns, adolescents, and athletes.
Available Credit: 
This enduring recorded course satisfies the statutory mandate that nurses and athletic trainers obtain one credit in continuing education programs concerning prescription opioid drugs as a condition of licensure renewal.
Upon successful completion of the enduring recorded course, participants will receive a certificate of completion, and should retain it in accordance with their relevant licensing board's regulations.
To receive full credit, you must be present for the entire enduring recorded course activity.
To receive a certificate of completion, complete the Pre-Assessment, Post-Assessment, and Knowledge Assessment.
Hearing Impaired Registrants: The enduring recorded  course will contain closed captioning.
For technical support with registration and access to the module, please contact the Rowan Online Marketplace Center submit an email ticket here.
View and share the flyer for the ENDURING RECORDED COURSE here