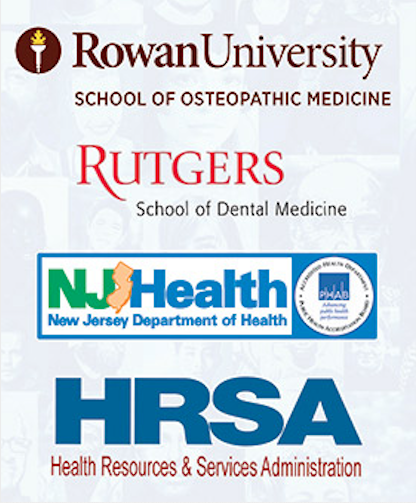 OVERVIEW OF PAIN MEDICATIONS FOR DENTISTRY
ENDURING COURSE: Will be available starting Friday, May 29, 2020 at 8 AM EDT. Registration now open.
Time of Enduring Course: One hour
This is the second of three modules in an enduring course series on opioid addiction prevention. This module is designed
to train and inform New Jersey dentists, dental specialists, and dental professionals (dental hygienists, dental assistants)
on common pain medications.
All participants who register for and complete a listed course will receive access to the Rowan University School of Osteopathic Medicine—NJ CARES—New Jersey Division of Consumer Affairs Naloxone Distribution and Training Programs Guide, a special research project developed in Spring 2020 as part of the New Jersey Opioid Medical Education Program. This comprehensive county-by-county guide, available in interactive and print formats for health care professional reference and patient education, includes pharmacies who dispense NARCAN® (naloxone hydrochloride) Nasal Spray and the recent FDA-approved generic naloxone hydrochloride nasal spray (utilizing standing orders, and via prescription). It also includes virtual trainings in the era of COVID–19 on how and when to use naloxone nasal spray.
TARGET AUDIENCE: Dentists, Dental Specialists, and Dental Professionals (Dental Hygienists, Dental Assistants)
OBJECTIVES: At the conclusion of this activity, participants will be able to:
Identify trends and statistics in dental pain and opioid prescribing in dentistry.
Recognize the importance of the New Jersey Prescription Monitoring Program (NJ PMP) in halting
abuse and diversion, and dentistry obligations in using the program.
Outline dentistry obligations in proper prescribing of controlled dangerous substances (CDS), including
requirements for valid prescriptions, emergency dispensing, and electronic prescriptions.
Recognize common anxiety and pain medications used in dentistry including anesthetics, muscle relaxants,
anti-inflammatories, and opioids.
Identify ethical obligations of dentists, dental specialists, and dental professionals in using screening, brief intervention, and referral to treatment (SBIRT).
Understand dental clinical workflow used to evaluate patients prescribed pain medications.
Discuss naloxone co-prescribing and implementation within the dental setting.
SPONSORSHIP: These modules are sponsored by the New Jersey Department of Health (NJ DOH), Oral Health Services Unit, through a grant from the Health Resources and Services Administration (HRSA), and through a joint initiative between Rowan University School of Osteopathic Medicine (RowanSOM) and Rutgers School of Dental Medicine (RSDM).
CREDIT: Rutgers School of Dental Medicine (RSDM) is an approved course sponsor by the New Jersey State Board of Dentistry. The courses, which deal with the scientific or clinical practice of dentistry, professional responsibilities, or ethical obligations of the profession, fulfill Board requirements for dentists' license renewal. Credit hours are granted on an hour-for-hour basis, provided the course is completed as designed.
RSDM is an ADA CERP Recognized Provider; the current term of acceptance extends to June 2021. ADA CERP is a service of the American Dental Association to assist dental professionals in identifying quality providers of continuing dental education. ADA CERP does not approve or endorse individual courses or instructors, nor does it imply acceptance of credit hours by boards of dentistry. Concerns or complaints about a CE provider may be directed to the CE provider or to ADA CERP at ada.org/cerp. Rutgers is also an Academy of General Dentistry, approved national sponsor for FAGD/MAGD credit.
NOTE: Dental educational institutions are obligated to disseminate new knowledge related to dental practice. In so doing, some presentations may include controversial materials or commercial references. Sponsorship of a continuing dental education course by the Rutgers School of Dental Medicine does not necessarily imply endorsement of a particular philosophy, procedure, or product by this institution.
SUNSHINE ACT STATEMENT: In compliance with the Physicians Payment Sunshine Act, the Office of Continuing Dental Education may release participants' names to applicable manufacturers who at times may provide an educational grant, in-kind and/or technical support for our programs.
PARTICIPANT CREDIT VERIFICATION: Credit letters will be mailed to all participants.  Participants should complete the self-reporting section of their credit letters. CDE will adjust the database to reflect the actual number of hours received for the activity. The participant's transcript will reflect actual credit hours if called upon by the State Board to verify attendance.
Hearing Impaired Registrants: This enduring course will contain closed captioning.
For questions pertaining to the New Jersey Board of Dentistry, and module content, please contact Patricia Fortunato, RowanSOM NMI Content Manager/Program Manager at fortun83@rowan.edu
For questions pertaining to CDE, please contact Janice Gibbs, RSDM Executive Director of CDE at cde@rsdm.rutgers.edu 
For technical support with registration and access to the module, please contact the Rowan Online Marketplace Center submit an email ticket here.
View and share the flyer for the ENDURING RECORDED COURSE here