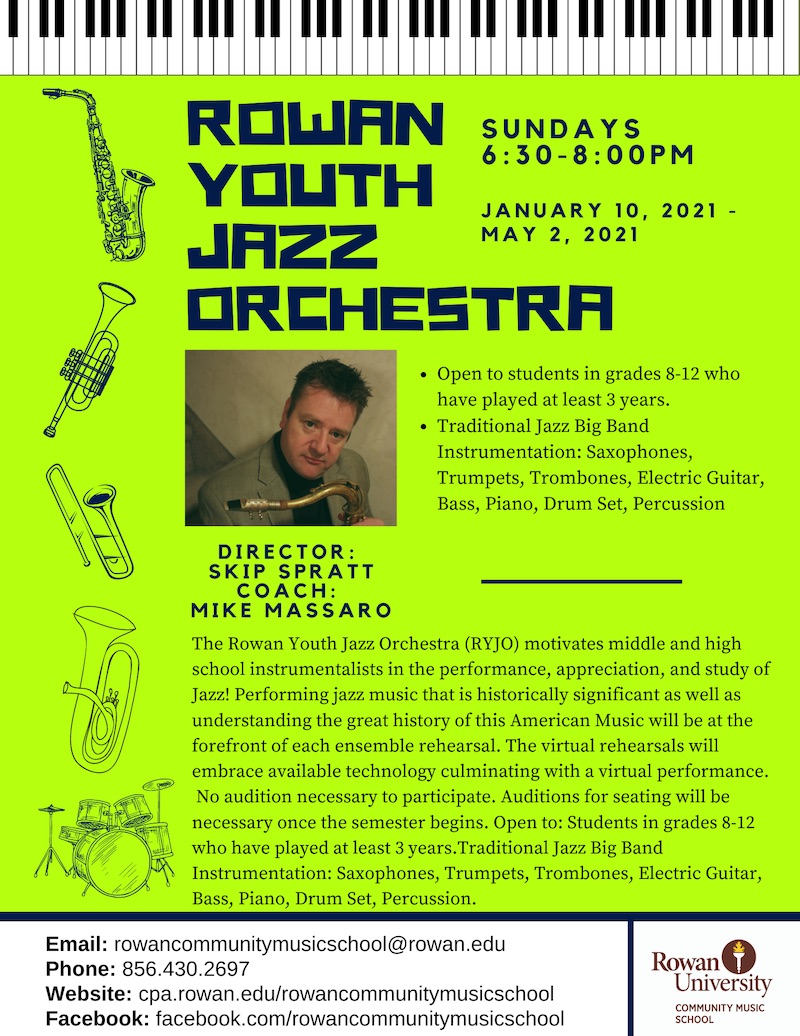 The Rowan Youth Jazz Orchestra has been formed to motivate middle and high school instrumentalists in the performance, appreciation, and study of Jazz. Performing jazz music that is historically significant as well as understanding the great history of this American Music will be at the forefront of each ensemble rehearsal. Opportunities will be given to work on jazz improvisation, sight-reading and culturally influenced jazz styles while working through the RYJO repertoire. The virtual rehearsals will embrace available technology culminating with a virtual performance. The RYJO will rehearse and perform in-person at Rowan University when allowed to do so. Students who are looking for a FUN and REWARDING experience playing in a jazz ensemble are encouraged to apply. No audition necessary to participate.* Auditions for seating will be necessary once the semester begins.
Open to:
1. Students in grades 8-12 who have played at least 3 years.
2. Traditional Jazz Big Band Instrumentation: Saxophones, Trumpets, Trombones, Electric Guitar, Bass, Piano, Drum Set, Percussion
*Interested students who play instruments other than those listed above will be considered for inclusion in the RYJO by audition only.
Sundays: January 10, 2021 - May 2, 2021
Times: 6:30 - 8:00PM
Location: Virtual/Zoom
Cost: 

$245 pay in full due by January 24, 2021.
(Payment Plan - 2 payments: 1st payment $145 Due January 24, 2021; 2nd payment $100 due March 21, 2021)