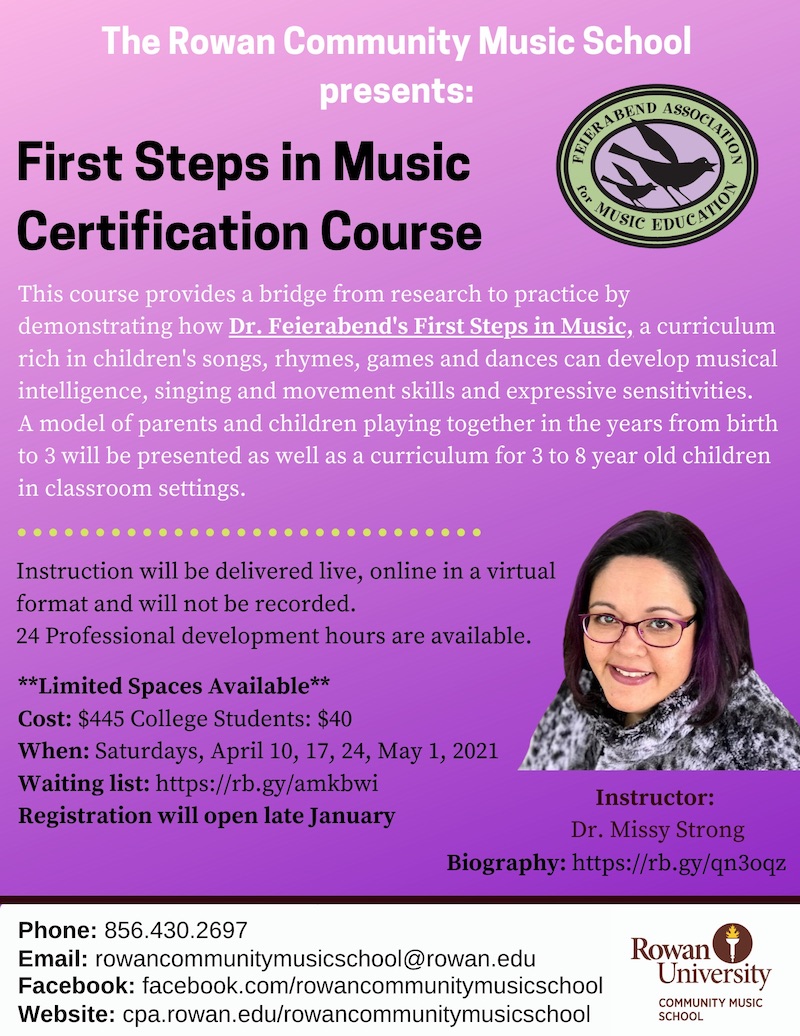 This course provides a bridge from research to practice by demonstrating how Dr. Feierabend's First Steps in Music, a curriculum rich in children's songs, rhymes, games and dances can develop musical intelligence, singing and movement skills and expressive sensitivities. A model of parents and children playing together in the years from birth to 3 will be presented as well as a curriculum for 3 to 8 year old children in classroom settings.
Instruction will be delivered live, online in a virtual format and will not be recorded.
24 Professional development hours are available. 
Please Note for FAME Certification: successful completion of all assignments and the final exam are required. Students missing more than 2 hours, total, of online engagement will not receive FAME certification and PD hours will be adjusted accordingly.
Workshop Fees: $445
When: Saturdays, April 10, 17, 24, May 1, 2021
Time: 9:00am - 4:00pm
Instructor: Dr. Missy Strong
Location: This is a virtual/Zoom
Refund Policy: No refunds allowed. If you have questions, please contact rowancommunitymusicschool@rowan.edu. 
Time:
Saturdays from 9:00am to 4:00pm
Notes:
Bill Me Later Option only for Teachers only. If submitting a school purchase order, use the "Bill Me Later" feature to produce an Invoice. Upon registration, you will receive an invoice from Rowan University and an invoice will be sent to your school secretary or listed contact. All "Bill Me Later" invoices must be paid in full by March 31 to complete First Steps class registration.